You may recall that last Monday, the U.S. had a total solar eclipse.
Eclipses occur quite frequently around the world, but this one got a lot of hype because many more people than usual were within traveling distance of totality. Including me. I've seen many partial eclipses, but I've heard from tons of people who said you must, simply must, experience the ultimate photobomb at least once in your lifetime.
My mum happens to live in a city in Missouri located in the band of totality that stretched across the continental United States. So, as is my wont, I vastly overpacked for three days and drove over on Saturday.
Mum's brother decided to drive over too, on his own. I prefer not to carpool in case my travel anxiety dictates an urgent need to leave; a fortuitous habit, as it turned out. Mum put me downstairs in the finished basement. I didn't mind this, but I had to sleep on a slowly deflating air mattress, and I might as well have been on the floor. Oof.
Image: Alex Rotas / positivenews
S. and A., chat room friends from Europe, were traveling in the States for a concert and other visits, and they messaged me that they were coming to St. Louis for the eclipse and wanted to meet up. Mum was fine with them coming down to watch with us, so they did.
My uncle plays the guitar like a goddamn virtuoso and he really impressed them. We had an outstanding visit. I rarely get to see S. and A., because 1) they're in the Netherlands and Poland, respectively, and 2) I can't travel as much as they do.
The total eclipse absolutely amazed me. Anyone who saw a partial just cannot understand how mind-bendingly weird it is. The strange silvery light–like twilight but not, that no camera can capture. The crescent shadows (partials will make those, so you saw them if you were in any of it).
Image: Elizabeth West
As the day slowly darkened, the birds settled down as if it were night. We have cicadas this year, and they began to buzz the way they do at dusk. The temperature dropped. The day had grown butt-melting hot, so we appreciated that more than you could know. A breeze started to blow. The diamond ring appeared as the eclipse neared its peak, and we could see Bailey's beads.
Then, totality.
I always thought when the moon obscured the sun, it would slide slowly over it and the sun would gradually fade out, but it wasn't like that at all. When totality comes, the moon sort of slams into place over the sun like a manhole cover, and the corona explodes into view. It's not the least bit subtle! And then you take off your glasses and see this big black hole in the sky.
A HOLE IN THE SKY Y'ALL
Okay, so I may have freaked out a little bit.
Video: Elizabeth West
Of course it's bigger than the camera shows, because cameras suck and I don't have a zoom lens (but I will next time, dammit). It resembled those pictures of black holes where artists have rendered a glowing event horizon around the edges. If you look at this picture and squint to obscure the stars, you can get a rough idea of how it looked.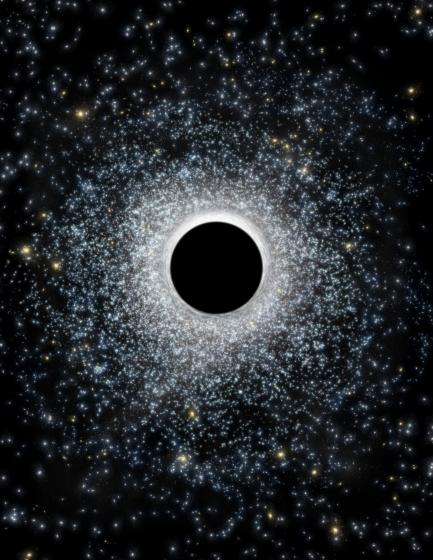 Image: M. Weiss / Harvard-Smithsonian Center for Astrophysics / newsdesk.si.edu
Totality lasted a little over two minutes–the shortest two minutes of my entire life. It felt more like thirty seconds. All too soon, the diamond ring reappeared and we put our glasses back on.
We didn't stay outside for the rest of it. Instead, we went inside for a delicious lunch of chicken tenders with herbs and apricot sauce and roasted smashed potatoes (my mum could easily take Martha Stewart's crown right off her smug little head).
Image: Elizabeth West
My uncle ran a quick errand, and unfortunately, his car decided to throw a rod or something. He had to stay over another night to have it fixed. Which meant another night on the floor for me, so I decided to go home.
S. and A. left to drive back to St. Louis for the night; they spent the next two days driving to Chicago to visit a couple of other chat friends. I'd planned to hang out with them in Krakow this past May at the Fans of Film Music festival, but as you know, I lost my damn job. But with luck, I'll see them again soon.
The next total eclipse visible in the U.S. will occur on April 8, 2024. The path of totality lies further east. If I were you, I'd start planning now.