It happens from time to time in communication.  We all have the occasional typo.  But if you write professionally, you need to make sure you use the proper word.  This means PROOFREADING.  Spellcheck doesn't know everything.  It will skip over words spelled correctly.
And if you use Autocorrect in either your word processor or your tablet, you must beware of substitutions. We ALL know that one.
Behold, in two parts, I list for thee some common mistakes that make editors gnash their teeth.  Many of them come from mispronunciation of words or homophone confusion.
I can just about guarantee I made a mistake in this post and someone will point it out to me.
Part I: Getting it Wrong
Vise versa
Um…no.
Image: Glenn McKechnie / Wikimedia Commons
Then vs than 
I might have done this already.  It bears repeating.  Then refers to a specific time.  Use than to make a comparison.
Cut and dry
It's cut and dried.  As in, the fish is caught, cut, dried, and now we're done.  No more work needed.
Perq
It's perk.  I know it's short for perquisite, but the word is spelled perk.
Bait in switch
It's bait and switch. You dangle the bait AND then you switch it.
Stop using quotes for anything except direct quotes!
Scare quotes (or the gesture, air quotes) have come to denote irony, which means that you're probably saying the opposite of what you actually mean.
Image:  submitted by Mary / unnecessaryquotes.com
Irrespective (see what I did there) of what you might have heard, irregardless is a double negative and cancels itself out.  Say regardless instead.  A manager at an old job used the incorrect form all the time, and I used to laugh at him secretly.  He was a tremendous bully and customers hated him, so I don't feel badly about it.  You may laugh at him too.
Half-hazard
Try haphazard.
Jewlery
This isn't even a word.  It appears more often in spoken discourse, but I've seen it written too.  It's jewelry. Spelled jewellery, if you're British or learned British English.
That vs. who
That refers to objects, groups, or animals; who refers to people.  That doesn't technically violate grammar rules, but since people aren't objects, who is the correct form.   Example:
"I know the culprits that trashed the cemetery, Buffy," Giles said.
As a proper Englishman and a learned fellow, he would never say this.
Part II: Know Your Homophones
Balling vs. bawling
You ball your girlfriend or boyfriend.  You bawl your eyes out.  If you say, "That film was so sad I was balling all over the cinema!" I'm going to look at you funny.
Cue vs. queue
Since these words have multiple meanings and some are confusing, I'm going to use them in a couple of sentences.
Cue
The pool player arrived with his cue [stick] in a special case.
An actor waits in the wings for her cue [signal].
            Tell the DJ to cue up [put next in line] a disco track.
Queue
English people love to queue [verb: line up].  They're good at it.
Officer, the man who jumped the queue [noun: line] wore a queue [braid] down the back of his neck.    
Breaks vs. brakes 
We all got breaks when we found jobs after a long period of unemployment.
When the rabbit ran out in front of me, I hit the brakes.
Peddling vs. pedaling
You pedal a bike.
You peddle your geek junk on eBay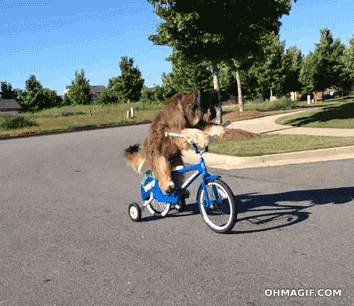 They see me rollin; they hatin….
Mantle vs mantel
A mantle is a cloak.  It's also used colloquially–someone can assume the mantle of command (they put on the cloak of power).
You put things on your fireplace mantel.
Roll vs. role
One's a verb; the other is a noun.  Bartholomew will roll the cheese down the hill.  An older actor typically plays the role of King Lear.
Hoard vs horde
This is a hoard.
Image:  David Rowan, Birmingham Museum and Art Gallery / Wikimedia Commons
This is a horde.
Pour vs. pore
Both verbs, but they do very different things.
Imma pour you a drink, man.  We'll talk.
Deep in the library at Orthanc, Gandalf began to pore over the scrolls. 
Flare vs. flair
A flare is a Roman candle you put on the road when you've broken down.  Flair is about how you show your sassy self!
Palate vs. palette
The first one refers to your sense of taste, or the roof of your mouth.  The other is the thing on which Bob Ross mixes his little roll of paint.
Wean vs. ween
If you mess this one up, I will laugh like this:  HAHAHAAHAHAAHAHAAHAAHAHAA!  Because deep inside, I'm a dirty-minded sixth-grader.
To wean is to extract yourself gradually from a dependence on something.  You wean yourself off that daily latte. You wean your little babby off formula/breast milk and onto solid food.
Ween is a very old word meaning to think or expect something.  It's also short for wiener, which is slang for your big old willy.  Willy is slang for your penis, bro.
Grizzly or grizzliest vs. grisly
I see this one a lot.  Grizzly as an adjective means flecked with grey, as in an old dog's muzzle.  As a noun, it's a species of bear.
Grisly means something that causes disgust or horror, like blood and guts.  So a grizzly grizzly can do grisly things to your sad little meat body.
Finally, one I saw just today:
Wrap vs. rap
A bad wrap–this is what you get when you let your cat assist you with the Christmas presents.  A bad rap means somebody's dissing you.
Image:  MoreFlippyCat / YouTube
Remember, Autocorrect and Spellcheck are great tools, but neither is a substitute for editing.  If you can, ask someone else to look at your article.  Or set it aside for a while and go back to it.  Print it out and look at it on paper–your eye doesn't see the same thing on screen in the same way.
Now go forth and edit!